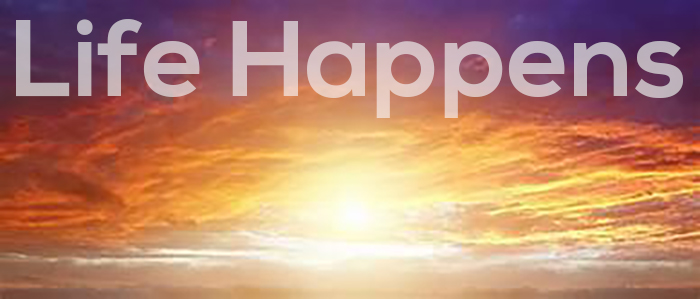 Therefore, my dear brothers and sisters, stand firm. Let nothing move you. Always give yourselves fully to the work of the Lord, because you know that your labor in the Lord is not in vain
1 Corinthians 15:58  (NIV)
It's been awhile since I posted a fitness blog. Let me show you how I bring Jesus into my daily efforts to maintain a proper body posture…something I constantly struggle with. Knowing I'm doing everything for the Lord makes what usually challenges me feel almost effortless.
 Whatever you do, work at it with all your heart, as working for the Lord, not for human masters,
Collosians 3:23  (NIV)
Let's start with our ankles and feet. We want to stay always grounded in the Lord. We can do this for our body by digging our heals into the floor, which will help to keep our ankles firm, yet flexible.
Traveling up the leg, we want to also keep our thighs strong and sturdy.
They too are grounded in the Lord. This means both the front of our thighs (quadriceps) and the back of our thighs (hamstrings). Strong thigh muscles help us to keep our hips in the correct alignment over the top of our thighs.
This will keep your abductors/hamstrings engaged every time you think about them while sitting….Imagine pushing both the front AND back of the thigh into the seat you are sitting on. As you do this…notice how the muscles in your bottom contract. Just keep thinking…PUSH HAMSTRINGS! PUSH HAMSTRINGS!
Then I count on the Lord to keep my hips strong and in the right alignment. I get my body to go along with the plan by pulling my hip bones UP toward my waistline. This one move will pull our bottom under and make our bottoms very stable.
Read through all my posture cues and tips for keeping the body in right alignment by visiting my October 2020 blog post, HEADS UP – MARY VARGA (mvarga.com)
As we continue to travel up the body, we meet our chest and shoulders. To maintain the right posture, we need to open our chest, starting with the breast bone as our anchor.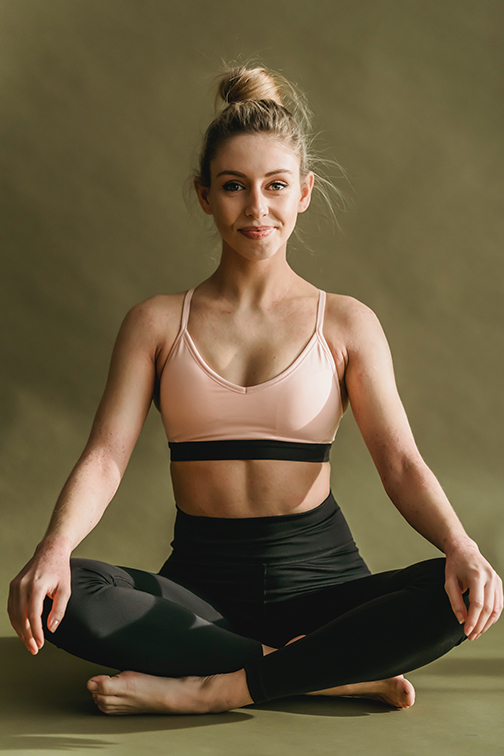 This is where I really place Jesus right at the top of all my posture cues & prompts!
Imagine Christ living in the middle of your heart…His light and love illuminating out in all directions. That will get our chests open! Then imagine that radiance extending to everyone you come in contact with.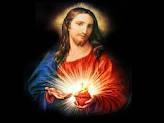 My biggest posture challenge is keeping my head in line with my chest & shoulders, (not in front of them).
I give my classes continuous cues & prompts. Make a long neck; Pull your ears back over your shoulders; Balance a book on top of your head! Those are my standing cues.
Here's a couple of simple exercises we can do while lying on our bed.
1. Lay on back pushing the back of our head into the pillow. Tuck the chin back into the throat. Hold that push for 3 seconds. Complete 10 repetitions.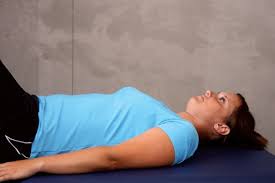 2. Lay prone with chest/shoulders at very edge of the mattress. Contract bottom muscles while pulling the neck and head over the edge of the bed. Hold for 10 seconds. Start with 5 repetitions. Work up tp 10.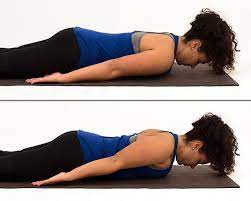 These tips and cues will help us to sit and stand in a posture that will benefit us as we move our heads, shoulders, hips and feet. Remember that exercises work more effectively if we hold our body in the right posture.
Remember also that we are the Lord's holy temple. He lives inside of us and He wants His love for us to radiate from our hearts outward to touch everyone we meet!
Then we can imagine a bright halo over our heads pulling us up toward heaven. That can replace the book we are trying to balance on our head. 
For our posture AND for our relationship with the Lord…
Remember that all things point UP!
Dear Lord,
Let us think of You as we go about our daily fitness routines. That includes how we carry ourselves during the day. Inspire us to follow the advice given to us by the experts in physical health.
You made us just as we are. That includes our bodies. Before we go trying different methods to change what You've given us…remind us to check in with You first….and perhaps our physical therapist.
You can now comment directly on my website! A friend showed me how to eliminate robo comments and still allow my subscribers to comment on my blog posts.
Once you are on mvarga.com, you can subscribe to receive future blog posts, read through past blogs and find more about my books & fitness tips!