My name is Mary Varga. I am an ACSM Certified Personal Trainer, a Fitour Certified Senior Fitness Instructor and a SilverSneakers FLEX Program Instructor. I've been leading exercise classes in Senior Homes and Assisted Living residences since 2010. The SilverStrength® classes I teach are relaxed, casual and fun with an emphasis on posture and balance.
As the survivor of a traumatic brain injury in 1997, I must exercise daily to maintain and improve my balance, fine motor skills and flexibility. The exercises I've done to regain my mobility and strength are ideal in helping senior citizens maintain their own.
SilverStrength® is here to give you the tools and tips to maintain strong, toned and flexible muscles. I put a strong emphasis on proper posture and body alignment. In the future, I will include video on our Facebook page from parts of my SilverStrength® classes. I will post regular fitness information and tips gained from my training and other literature on the SilverStrength® Facebook page. It is meant to be an interactive fitness page. So I welcome you to LIKE the SilverStrength® Facebook page and to add your questions and comments.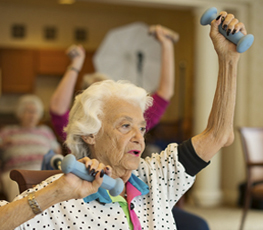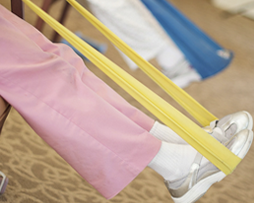 A portion of my class schedule has been established for years. However, if you'd like to hold a class at your church or apartment complex, I still have some times available during the week. Group classes are $30.00 for a 45-minute session regardless of group size.
Personal independence is such a valued priority in life. As a traumatic brain injury survivor, I have spent years gradually regaining mine. So I'll spend some time discussing exercises to help you hang on to yours. Please know that I am not a physician, a physical therapist or a registered dietician. I am a certified personal trainer and senior fitness instructor. I have a working knowledge of the musculoskeletal and cardiovascular systems of the body. I am NOT a medical expert! So I encourage you to discuss any fitness information I present with your healthcare provider.
So welcome to SilverStrength®!
My prayer is that you'll find our information helpful as you go throughout your day, doing simple body mechanics. (Such as bending and reaching). Just because our bodies are getting older, doesn't mean they can no longer be strong and flexible.