THE LIGHT THROUGH MY TUNNEL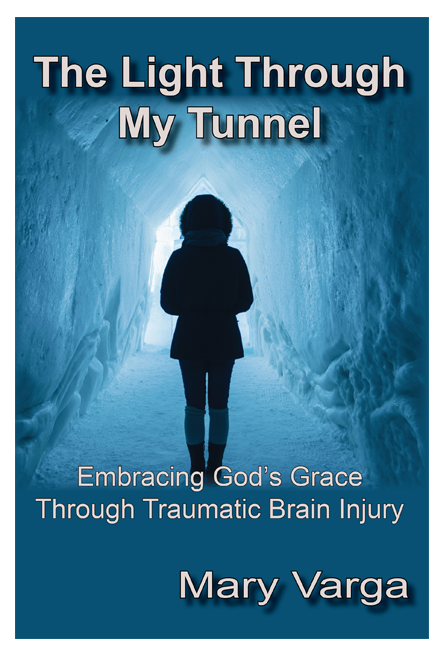 I was a wife, new mother, business professional and avid runner. Then my life changed instantly as I was driving three blocks to my friend's post-regatta victory cookout.
My book begins with my marriage two years before the car accident that changed my perfect life with no warning. I describe the car accident that resulted in my traumatic brain injury. My mobility, fluent speech, my driver's license, my career, my new family: these are the losses I incurred after my unfortunate car accident.
I recount all of the trials, challenges and triumphs of living without the balance required to maintain an active life. I describe, often with humor, the new challenges of living in a disabled body. Life with poor balance is different from anything I have ever encountered. Yet my fierce independence and determination propels me to keep reaching for more improvements to finally attain the 'normal' life I so desired. I still looked the same. Please God! Let me move as quickly and effortlessly as I used to!
I write extensively about all the family, friends and sometimes perfect strangers that have helped me to navigate in my new disabled world. For someone with such a self-proclaimed 'simple life', I sure do have a lot of great (and funny) stories to tell!
I end each chapter with a prayer concerning the events that transpired in that chapter. This is my life. So until I read back to what it was like in the beginning, it's hard for even me to see how God has been directing my every step. My prayers are for thanksgiving and sometimes for help!
I write about seeing God's grace as He carried me through this newest chapter in my life. I spend two decades trying to get back to the active, athletic, and fit person I was before my brain injury. That was the 'old Mary'. Now I have become the 'new Mary'….still active and fit, but with a new perspective on what is really important in life.
I'm embarrassed that it took so long to figure this out. You can be healthy, attractive and intelligent with a great career, family and friends; but without God as the center of your universe, you cannot have a truly joyful life. It took a traumatic brain injury to finally realize it wasn't all about me.